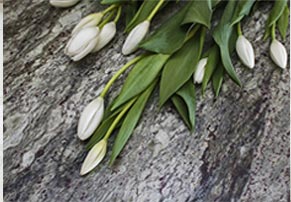 Natural Stone
Natural stone (granite, quartzite, soapstone, marble) is exactly what the name implies, literally a stone quarried from the earth in block form that is then cut into slabs for countertops.
Natural stone comes in a dizzying array of colors, finishes and price points from all over the globe. Each slab is truly unique and has its own unique characteristics.
Most natural stones require a sealer be applied to prevent staining. This is a simple process (spray and wipe) and can be done annually in a few minutes.
Natural stone is inherently scratch and heat resistant.
Seams are visible in a natural stone top.
Natural stone can be used both indoors and out.
Quartz
Quartz is a countertop product manufactured from approx. 93% natural quartz and 7% resin binder.
Quartz is available in a wide range of colors from a variety of brands such as Cambria, LG Viatera, Silestone, Wilsonart, etc.
Compared to natural stone, your average quartz countertop is generally going to cost slightly more.
However, exotic natural stone colors can be priced quite a bit higher than quartz.
Quartz is stain-resistant and does not require sealing, ever.
Quartz cannot take direct heat from a dish or pan hot from the oven or stove's surface. Trivets should always be used. Heat damage is not covered in any manufacturer's warranties.
Seams are visible in a Quartz countertop, no different than Natural Stone.
Quartz is not recommended for exterior use in direct sunlight.
Porcelain
Porcelain slabs are made from clay that is fired at a high temperature.
Porcelain is non-porous which makes it stain-resistant. Sealing is never required.
Porcelain can be used both indoors and out.
The slabs are available in a large format allowing for large islands and shower walls.
Get the look of the high-end marble that you love without the price tag.
Seams are visible in a Porcelain countertop, no different than Natural Stone or Quartz.